Creative Publicity Achieves Acclaim

Saturday, 29 May 2010 20:09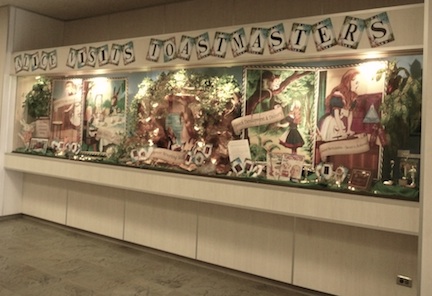 "What is the use of a book, without pictures or conversations?"
Alice from Alice in Wonderland
The lobby display at the Orange County Department of Child Support Services office achieves acclaim and accolades for creative design to promote Tools 2 Lead Toastmasters club's open house and fund-raiser on April 13 through 30.
Lobby Display Co-Chair and active member Claudia Heredia came up with the idea of a young lady lost in a strange world (Alice in Wonderland) who was at a lost for words. Enter and Toastmasters.
Heredia knew the display had to be whimsical with a sense of "controlled chaos" and it had to offer a friendly little character (White Rabbit) to offer customers something to smile at.
Lobby Display Co-Chair and Treasurer Lisa Avila picked out five illustrations from a story book written and illustrated by the original author and tied them in to aspects within Toastmasters, i.e., Alice and friends sitting around the table-going over "Table Topics."
The Lobby Display team recruited non-Toastmaster employees for the beautiful cave and greenery – an excellent way to introduce the program to new potential members. To add another level of interest, club members loaned trophies, ribbons and pictures to complete each of the scenes.
Under Heredia's leadership and organizational skills and the help of club members the installation was efficiently completed in two and a half hours.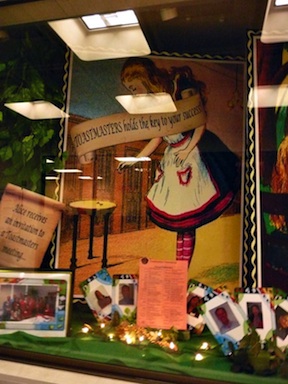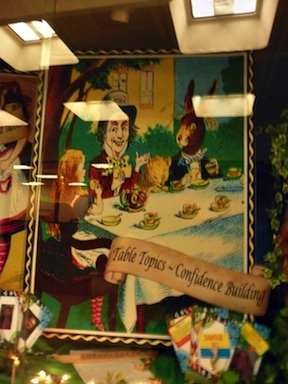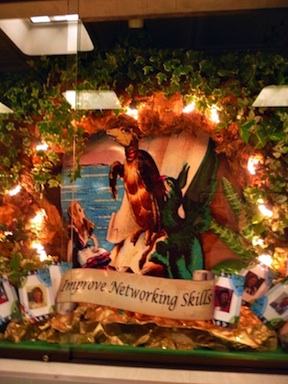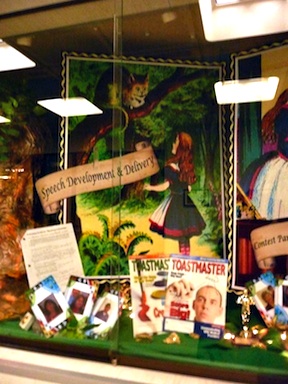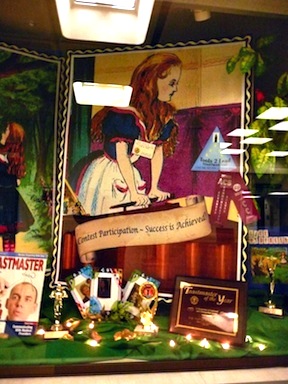 An extraordinary accomplishment! Congratulations Tools 2 Lead Toastmasters!
Last Updated ( Monday, 31 May 2010 17:55 )