Dialogue Masters Debates Health Care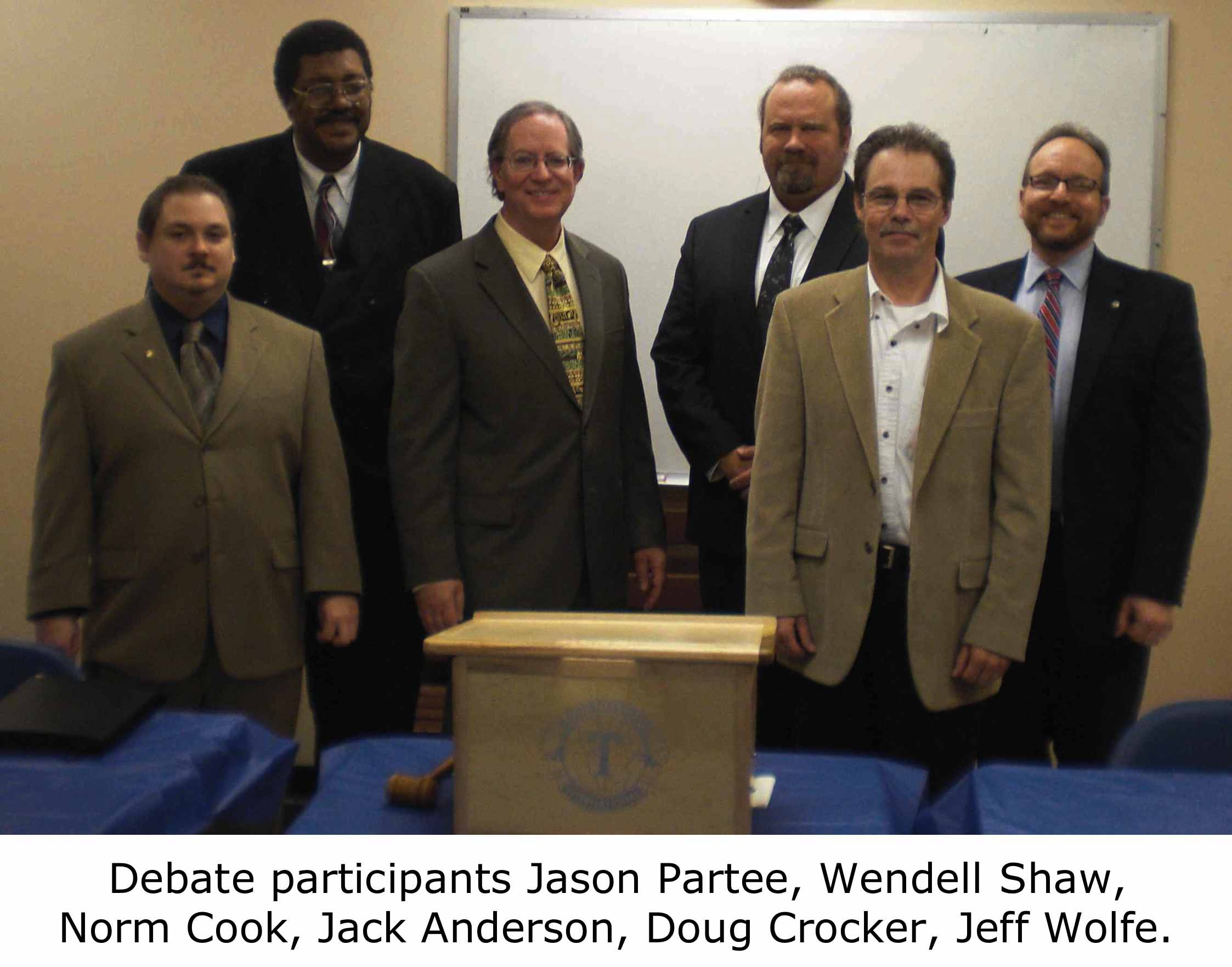 The Stanton Dialogue Masters Club 4007, led by Club President Doug Crocker, held a public debate on the 2010 Health Care Reform laws. Soon, Norm Cook, DTM, PDG, and Jack Nichols, DTM, joined the effort to help this become a reality. The District One and Founder's District Speakers Bureaus, as well as the Founder's District Community Judges Bureau, headed by Avis French, joined in, and the debaters, judges, timer, and moderator were chosen. The push was on for inviting people to be in the audience and learn from this event.  Many hours of planning, research, and conference calls all came together on December 9, 2010, at 7 pm when Doug called the debate to order.  From the cookies to the coffee to the room to the seating, nothing was second rate.  The Toastmaster Banner hung to the side of the debaters' table, and it was a symbol of freedom of speech and the ability for ordinary citizens to come together and debate this very important issue. It was exactly what it should have been: freedom of speech, as practiced in a responsible and friendly manner. This simple act would not be possible in all parts of this world.
Yes, one side won over the other, but we all won, because we all did some critical thinking about a critical issue.  The audience was connected and you could tell by their questions that they enjoyed and learned.  That is what debate is really all about to me.  Some people get together and decide they are going to research and then argue their points of view about a subject.  That worked well.
This was a two-district supported event. The City of Stanton co-sponsored the debate. Members of Founder's District supplied all the judges and authority, while the four informed debaters were from District One.  A few people now know about Toastmasters International and how to become involved, and better yet, they know why they should be members.  We put out best face forward. All the participants should be proud of their parts in this presentation and the parts served by each party.
If you missed this exciting event, stay tuned to the district websites.  We will be doing this again... soon.  You may want to be part of the next event; if so, contact Doug Crocker at   This e-mail address is being protected from spambots. You need JavaScript enabled to view it .