Clubs
Spreading our Wings, Reaching out to Youth

Friday, 12 August 2011 23:43
By Ramona Oakes, CC, ALB.

In the 2010/2011 contest year for the Founders District Judges Bureau, a new client was Health Occupations Students of America (HOSA). HOSA is an organization established to promote healthcare careers to secondary and post-secondary students throughout the U.S. 

In late June, several members of the Huntington Hospital Toastmasters (Club #1003430) attended the HOSA National Convention in Anaheim, California. Being employees of Huntington Hospital and also members of Toastmasters International, the call to serve as judges for the HOSA National Convention was loud and clear to the members of the Huntington Hospital Toastmasters club #1003430. Six of the club's 20 members were able to take time off from work to volunteer at HOSA.

HOSA participation was a new experience for these six Toastmasters, who found themselves in the midst of 4700 high-achieving high school students competing against each other in various categories. Throughout the year, these students w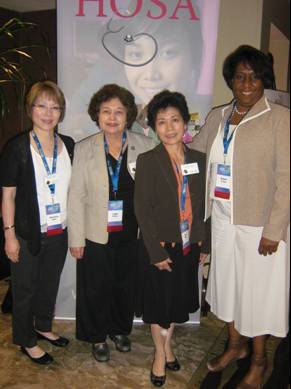 orked on various projects delivering healthcare services and education to their communities. The students submitted written reports and displays for competition at the regional and state levels. The winners of the state competitions were invited to Anaheim for the final competition to determine the best of the best. The volunteer judges were asked to judge each entry based on the merits of the project as well as the quality of the oral presentation. Even though this competition format was new for Huntington Hospital's Toastmasters, they felt prepared and confident because of their experiences in giving Speech Evaluations during Club meetings and contests.

Judging the HOSA competition was a fun and rewarding experience. The students were bright and eager; one might say their enthusiasm was "infectious." To quote Division B Governor, Ligia Molina, DTM, "The student presentations were impressive in their depth and sophistication of knowledge.  Most impressive was seeing how much the students cared about the health of others."

All six participants are current or Immediate Past Club or District Officers. They know the value of Toastmasters personally and were honored to make the connection to serve others; helping others to be the best, and nothing less.  The Judges Bureau was pleased to have the services of these talented ToastMasters at the HOSA convention.

Pictured are 4 of the 6 participants (left to right): Mona Oakes, CC ALB; Ligia Molina, DTM; Lani Shih, ACB, ALB; and Karen Rose Cooper, CC.  Not pictured: Myrna Hawthorne and Elizabeth Wos, CC.
Last Updated ( Tuesday, 16 August 2011 16:25 )
<< Start < Prev 1 2 3

4

5 6 7 8 9 10 Next > End >>


Page 4 of 26