Spring Conference & Speech Contests
May 2, 2020
CONFERENCE THEME: The Magic of Collaboration
No Walk In Registration Available, Everyone Must Pre-Register - Space is Limited
Time: 7:15 AM - 5:00 PM
CREDENTIAL DESK CLOSES AT 9 A.M., ALL BALLOTS MUST BE CLAIMED BY THE CUT OFF, NO EXCEPTIONS
CONFERENCE HIGHLIGHTS
2nd place Winner - 2019 World Championship of Public Speaking, Luisa Montalvo
District International Speech Contest FINALS
Four Interactive Workshops
District Awards and Recognition
Business Meeting & Elections
Network with other District Members
Opportunity Drawing & Silent Auction
TICKET OPTIONS
Business Meeting Only – Free
All Day Pass – NO WALK IN TICKETS AVAILABLE

Early Bird – $55 (through 4/20)
Full Price - $65 (4/20 through 4/30)

International Contest Only - $20 – NO WALK IN TICKETS AVAILABLE

KEYNOTE SPEAKER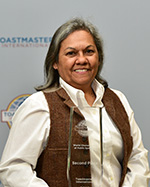 2nd Place Winner - 2019 World Champion of Public Speaking
Luisa Montalvo
Luisa Montalvo was born and raised in south Texas and also lived in Austin Texas for 25 years.
At the age of 53, she retired and moved back to the Rio Grande Valley to spend more time with her mom.
She first became a member of Toastmasters in 1989 and was active for a few years and then rejoined in 2013. She is currently a member of a few clubs in The Valley and enjoys mentoring and competing.
She also volunteers for a New York City rescue and transports dogs from Texas to New York.
Luisa has competed in the International Contest for the past 7 years and finally made it to the world stage in 2019 where she placed 1st runner up.
Luisa has learned you're never to old to follow your dreams!!
Communication & Leadership Award