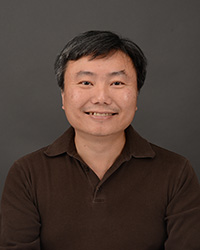 Candidate's Office: Division D Director
District: Founder's
Toastmasters member since: 2018
Education: 1. Bachelor Degree in Computer Science - California State Polytechnic University, Pomona.
2. Embedded Systems Engineering Certificate - UCI Continuing Education
3. Manager Essential Leadership Series - Western Digital Corporation

Toastmasters offices held and terms of service
Founder's District Area D5 Director 07/01/2019 - Present (10 months)
US Bank Michelson VP Membership 11/21/2019 - Present (5 months)
Western Decibels VP Public Relations 01/01/2019 - 06/30/2019 (6 months)
Western Decibels Club President 03/21/2018 - 12/31/2018 (10 months)
Toastmasters honors and recognition
Helped charter 3 Western Digital clubs in 2018. Revived 2 clubs by merging them in 2019.
Won Table Topics 1st Place and International Speech 3rd place in 2019 Area D5 contests.
Completed Pathways Effective Coaching Level 3. Plan to complete Pathways DTM by 2021.
Relevant work experience and how it relates to Toastmasters and your role as a District Officer
Former job as firmware technologist required me to: develop project plans & schedules; coordinate cross-functional teams; and lead & mentor junior engineers.
Current job as insurance agent requires me to: contact businesses & individuals, help them evaluate their financial needs, and design proposals to achieve their goals.
What experience do you have in the area of strategic planning?
1. Served in Toastmasters contests and conferences as hospitality chair, judge, and volunteer.
2. Served as children Sunday school coordinator and high school & college fellowship counselor.
What experience do you have in the area of finance?
1. Working in financial services as an insurance agent and studying for security licenses.
2. Organized WD volunteers to raise $5K in 2018 and $5K in 2019 for Founder's District.
3. Served at church budget committee for 10+ years and mission committee for 3 months.
What experience do you have in developing procedures?
1. Developed embedded software for 27 years, which are procedures for computers.
2. Managed design, implementation, and test process for teams of 5-20 engineers.
What lessons did you learn from previous leadership positions?
1. Continue to recruit members. Typical club may lose 30% members per year.
2. Encourage members to learn via Pathways, contests, and serving as officers.
3. Establish successor plan by training assistant officers 6-12 months in advance.
Why do you want to serve as a district officer?
1. I love, because someone loved me - like Amy, Mike, Jean, and Lori.
2. I serve, because we became a team - like Bin, Scott, Billy, and Venu.
3. I care, because we became a family - like Jose, Uyen, Susie, and Lydia.
In your opinion, what are the district mission's major objectives and how would you work to achive them?
1. Build new clubs - Contact companies and schools to sponsor new clubs.
2. Support all clubs - Plan co-op events for stronger clubs to help weaker clubs.
3. Thrive for success - Encourage and support every club to earn DCP awards.
Additional information about yourself:
1. I feel passionate about mentoring our next generation of community leaders.
2. I believe Toastmasters will teach us the skills to build a better world tomorrow.