2012-2013 District Officer Installations

Friday, 13 July 2012 01:07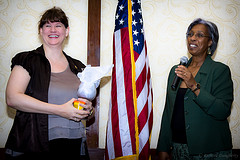 The 2012-2013 District Officer Installations were held at the Fullerton Marriott Hotel next to the Cal State Fulerton campus. Past District Governors club 407 hosted the event as usual. This club can plan and execute a large dinner meeting in a hotel ballroom with as much ease as my home club can plan an open house. Experience matters.
After dinner, the district chairs and governor installations began. The mood was very jovial thanks to the great work of the past District Governors who put a lot of thought into each installation. The ceremonies were both serious and hilarious thanks to the expertise of humorous Toastmasters such as Lois Sicking, Celly Adamo, Peter Geissler, Wilma Springer, Bob Hudack, and Richard Snyder. Even the new officers were joining in with the antics. District Treasurer Doug Bowers appeared with a paper bag mask over his head, which seemed to throw Wes Hoover off a bit during the installation. Wes accidentally referred to Doug as the District Governor two times during the presentation.
The installations took a slightly more serious tone as the top four officers were being installed, though they were still as fun as ever. Ede had some very amusing and kind words to say to incoming PRO Daniel Cossack and his wife who was sitting in the audience. Joyce Persichilli gave incoming Lt. Governor of Marketing Linda Ulrich some very good advice and a large bag of goodies to help her with her goals. Colette Gardner, as usual, changed things up a little and let incoming Lt. Governor of Education and Training Harry Yan have the microphone for a bit so everyone could hear what a fabulous orator he is. Finally, Alanda Dyer bestowed her words of wisdom upon incoming District Governor Victoria Dotson. Alanda is such a great friend to everyone, especially Victoria. When Alanda speaks, we all listen intently. Alanda's most important directive to Victoria is to always put her family first.
The evening finished with Victoria's address to the members of Founder's District. The icon she has chosen for herself is the wolf, because it best symbolizes what she believes is her vision for the District this year. The wolf represents fearlessness, teamwork, and loyalty. Victoria's vision this year is that the members of Founder's District will continue to work together, support one another, and grow as a family.

To see more photos from the event go to Part 1 and Part 2
Last Updated ( Tuesday, 06 November 2012 18:35 )