Varma's extraordinary P.R. skills lauded

Tuesday, 31 August 2010 18:46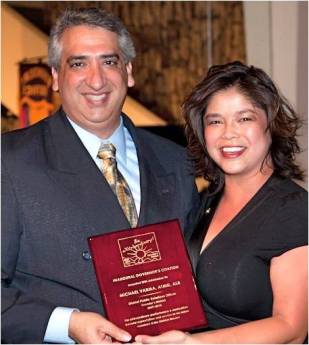 Extraordinary BergenMeisters Club member Michael Varma, ATMG, ALB, was recognized for "extraordinary public relations" accomplishments by Toastmasters International by raising awareness of Toastmasters mission by contacting mayors, the governor of California, Congress and the President of the United States for proclamations and resolutions.
Varma receives the Inaugural Governor's Citation for "extraordinary public relations" from Maira Pineda, immediate past district governor, at the Toastmasters District Elected Council meeting and awards dinner on Aug. 25, 2010 held at the Crystal Cathedral, in Orange, Calif. It is the first time this award has been given to a Toastmaster in an appointed position.
During his one-year tenure as Toastmasters International Founder's District Public Relations Officer, Varma successfully publicized more than 180 Toastmasters events and completed more than 110 additional projects. Major tasks included the coordination of the Founder's District website makeover with legacy documentation and engaging 34 mayors within Toastmasters' Founder's District, which encompasses Orange County and parts of Los Angeles and Riverside counties, to proclaim October 2010 as Toastmasters' Month. A number of mayors attended Toastmasters club meetings and invited Toastmasters to city council meetings.
Varma garnered recognition of Toastmasters International's 85th anniversary with resolutions from Congress, the State of California; and with laudatory from Gov. Arnold Schwarzenegger and Orange County Supervisor Bill Campbell. Varma also organized personal letters of endorsement from the President Barrack Obama and First Lady Michelle Obama applauding Toastmasters accomplishments throughout its history.
Varma's techniques are documented in a step-by-step guide complete with templates and can be made available to Toastmasters and other non-profit organizations.
A resident of Lake Forest, Calif., Varma has been a member of Toastmasters for six years, has earned the designations of Advanced Communicator Gold and Advanced Leader Bronze, and will soon receive his Distinguished Toastmaster. He has had numerous articles published in Toastmaster magazine, and is the author of "Tasteful Toasts," a book printed on pocket-size cards for use in almost all social situations that call for a toast. www.TastefulToasts.com
Varma is also a professional magician and has been a member of the Magic Castle since 1997. He lives with his wife, Barbara, and their cat.
Toastmasters is a non-profit organization that helps people, honing communication skills in small club meetings. There are nearly 260,000 Toastmasters members in more than 12,500 clubs in 113 countries.
Related articles:
Hollywood Here We Come
Mayor of Irvine Proclaims Toastmasters Month
Mayor of Santa Ana Proclaims Toastmasters Month
Proclamations 101
Last Updated ( Friday, 03 September 2010 09:46 )