Miss California Believes in You

Monday, 07 March 2011 20:58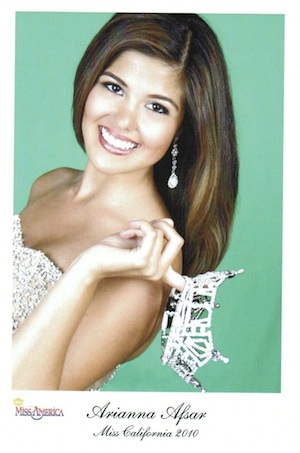 Miss California believes everyone can improve their communication skills and states directly, "Toastmasters is an excellent place to start."
Arianna Afsar, Miss California 2010; a Miss America Beauty Pageant 2011 Top 10 finalist and an American Idol 8 semi-finalist, believes the more we are able to express ourselves, the more our own beauty shines.
"You become more beautiful when you use your brain and express your thoughts and ideas in a clear and concise manner," she says.
"I have to make an immediate connection with my audience and that takes confidence. I gained that through practice and through what I learned in Toastmasters."
The five-foot-two, 20-year-old brown-eyed spitfire has passion for competition – and for helping others. She is the Goodwill Ambassador for the Children's Miracle Network on behalf of the Miss America Beauty Pageant. Her charity of choice is Helping Hands for America's Seniors.
"Going into a room I know I have something to offer," she says. "And, yes, we all can donate money, but volunteering time is most precious, especially with our seniors."
The bubbly California native who has German and Bangladeshi roots says she notices that Americans often forget to take care of their seniors. She recalls at age 13 being the only person to visit her grandmother in a San Jose nursing home. "I started a high school club to visit a nursing home once a month. I believe we made a difference."
Afsar knows you can make a difference, too. There are 24 hours per day, 168 hours per week and more than 700 hours in a month and knows you can spare one hour every month to make a senior's day.
When you join the BergenMeisters Toastmasters club lunch, you might meet Arianna Afsar as she practices her platform presentation and calls you to action.
Last Updated ( Monday, 07 March 2011 21:04 )