News
Select a news topic from the list below, then select a news article to read.


Toastmasters in the Corporate World

Monday, 17 October 2011 10:24
Toastmasters in the Corporate World 
By Angela Woodward, CC

As the President of ima of Newport Beach, William (Bill) Frank Schulz leads a group of highly talented and experienced Master Planners and Landscape Architects on the design and planning of some of the highest profile projects in the U.S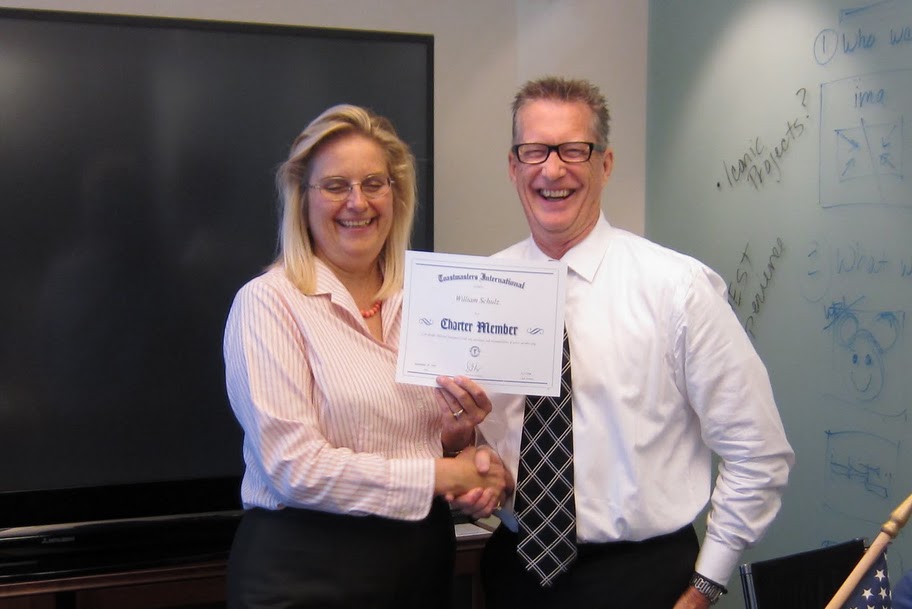 . and around the world. Landscape architectural designs feature strong concepts, sustainable practices and a 'little soul' in such a way that the end products bring together nature and people and endure over time. 
Bill buys lunch for this team every other Thursday. However, this is no ordinary lunch - he and his team get together to sharpen their skills at the ima design Toastmasters Club.
"One of the core values of ima is to exceed client expectations. Toastmasters International exceeded our expectations", said Bill on ima's Toastmasters Club first year roll out. "Our Toastmasters experience has improved the bottom line. We learned how to create, prepare and deliver superior presentations at project interviews. We were selected as the California State University Fullerton Landscape Architect and awarded the City of Perris public works streetscape."
"The Toastmasters meeting content is deeper, more valuable and more relevant than originally understood. Learning potential is higher than expected and addresses the full range of soft skills organization, management skills and discipline that is so valued by us as a company.  Our club also has social value. In short, people have fun. They give up personal time, lunch time, work time and have no complaints as they are having a good time."
Show the World

Sunday, 16 October 2011 18:42
Show the World – Have a Great Club Website
Do you know that while you are reading this article, several people may be searching for a nearby Toastmasters club they can join? Chances are that they will never consider visiting your club if you don't have a club website, or even worse – if your website is not maintained and updated regularly.
Don't despair – if you don't have a website, you can create a professional and powerful one that meets all of Toastmasters International's design guidelines, while showcasing the unique identity and culture of your club.
It's easy - there has never been a better time to create or refresh your club website since many resources have been made available by Toastmasters International in conjunction with their Brand Refresh that was announced in August 2011.
A website opens the doors to potential new members who are full of energy and enthusiasm, yearning to learn and share interesting and inspirational stories, take on leadership positions which in return will help a Toastmasters club grow and thrive. Your website also provides an important communication hub to keep your existing members updated.
Annual International Convention

Monday, 19 September 2011 02:14
Toastmasters 80th Annual International Convention: a Volunteer's Perspective
by Dr Patricia Adelekan, DTM,  a convention volunteer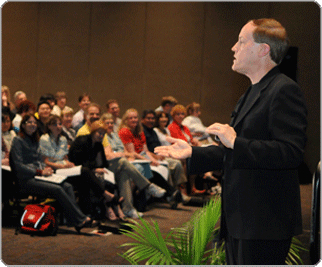 At the 80th Annual Toastmasters International Convention at Bally's in Las Vegas, Nevada, Aug. 17-21, 2011, there were 116 countries represented and over 2,000 attendees. I feel very fortunate to have taken the opportunity to attend as a  volunteer. Volunteers were called Conventional Ambassadors and we wore pastel violet sashes across our chests and Las Vegas Pins. We were exceedingly proud and humbled to have met and interacted with so many accomplished, dedicated, and talented world figures.
Also, as a volunteer Conventional Ambassador, I was selected to lead the long line of International "flag carriers" at the Opening Ceremony. The first flag (which I was honored to carry) was Argentina. This Ceremony ended with Dan Nainan, a stand-up comedian and Toastmaster who had us rolling off our seats with laughter from his humor. And then to close the evening, author Dave Logan, Ph.D. gave a moving inspirational Keynote speech based on his book, Tribal Leadership: How to Build a Thriving Organization. Every attendee received the book as a gift from TI—what a treasure!!!
Celly Adamo, DTM, PDG (also a volunteer), chaired the Golden Gavel Dinner where conventioneers had the honor to hear the Golden Gavel Awardee and Keynote Speaker, Robin Sharma. The Golden Gavel award is the highest award presented annually since 1959 to distinguished individuals in the fields of communication and leadership who are non-Toastmasters. As volunteers, we helped much.
There were about 200 convention attendees from Founders District. At the Hall of Fame event, we pranced across the stage with glee and laughter carrying our new Founder's District TI Flag to receive our awards and recognition for being a "Distinguished District" in  2010-2011.
Founder's District, Division E, semi-finalist Jamel Thomas won at the Semi-finals and was one of the 9 to proceed to the Finals to compete for the World Champion of Public Speaking held on Saturday, Aug. 21. For this event, I did not volunteer – I wanted to focus on the talented contestants.
To sum up my Convention experience, I can truly say it was one of "High Caliber." Of all my world travels (to over 20 countries),  I have never witnessed a more meaningful and humanitarian- centered organization and event.  "The positive spirit permeated the atmosphere and transcended  the  unimaginable. Indeed, I am overwhelmed with gratitude for having participated and volunteered at the 80th Annual Toastmasters International Convention at Bally's Las Vegas, Aug. 17-20.
"What I liked most," said Pat Nordberg, another volunteer "was the outstanding speeches of the 9 finalists. I was very very impressed at the level of expertise and achievement they portrayed. They truly represented the motto "Best and Nothing Less."
In conclusion, Founders' District must continue to be "Distinguished" or Better in 2011-2012, and proceed in even greater numbers to the Toastmasters 81st International Convention in Orlando, Florida.You will never ever regret it; but rather thank the stars that you decided to go, especially if it will be your first time.  I look forward to next year and to seeing many more of Founders' District Toastmasters there. And volunteer for the experience.
Emblem of Affirmation

Monday, 19 September 2011 02:05
An Emblem of Affirmation, Looking Out for Others & Acknowledging
Other's Strengths
By Dr. Frances Jordan Stein, DTM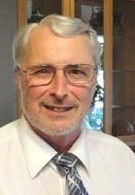 The hotel ballroom was jammed with conference attendees scrambling for seats at large round luncheon tables. I was feeling like a sore thumb or a fish out of water trying to find a place to land. A waving hand attached to a smiling face beckoned me to a place out of the sea of filled spaces. How good it felt to be rescued from my awkwardness by one who noticed and took care: Chris Gregory.
Chris Gregory, is a Distinguished Toastmaster, technical support  engineer,  hockey, soccer, wrestling, martial arts sportsman and coach, Qualified Speaker, poet and author of three books. Those of us who know Chris describe him as fully alive, and aware of others, open to all comers, and unafraid to express what people mean to him. What Chris sees is described in my favorite line from, "The Little Prince:" "That which is essential is invisible to the eye."
In conversations with Chris, he observes and reveals unique talents and potential you may not yet be aware of. A mutual friend, describes Chris as seeing the best in others and holding it up to them, like a mirror. He has a way of validating self- belief and confidence.  How can his attentiveness to others be explained?  What ignites his curiosity and interest?...Read on.
Market Your Club to Future Leaders

Monday, 19 September 2011 01:41
Leverage the Toastmasters Brand Refresh to Appeal to


X, Y and Baby Boomer Generations
These are challenging times for many clubs as we address the twin issues of member retention and attracting new members in the midst of corporate upheavals due to the tentative economy and the fee increase.
If you are a club leader facing these challenges, you don't want to miss the District Marketing Workshop on September 24th. 
Supercharge your club with valuable tips from Joyce Persichilli, Norm and Dr. Frannie Stein, Eileen Hope, Dr. Neel Sirosh and Lou Ann Frederick. Gain valuable insights in to membership growth and retention. Learn how to deal with various member segments such as young professionals, mid-career professionals, or folks who just want to improve their skills in communication and leadership.
This workshop is FREE for all who pre-register by Sept. 18.  As a bonus, everyone attending will receive a packet full of marketing resources from Joyce Persichilli.
Those who pre-registered by Sept. 10 will be entered in a drawing for a small Toastmasters banner with the new TI logo!  
<< Start < Prev 1 2 3 4 5 6 7

8

9 10 Next > End >>


Page 8 of 23