News
Select a news topic from the list below, then select a news article to read.


Team Talkers Tell It All

Wednesday, 06 July 2011 00:09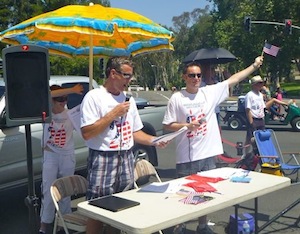 Lake Forest residents filled the sidewalks and celebrated the city's 20th Independence Day parade, America's birthday and listened to a team of talkers tell it all.
A team of local Toastmasters and Speakers Bureau members announced the City of Lake Forest's 20th annual Fourth of July parade providing information on more than 104 entries.
In the minor gaps that naturally occur in hometown parades, the announcers kept the crowd engaged with good family humor, Independence Day trivia, and Lake Forest fun facts.
Q: Why did the duck say "Bang!"
A: Because he was a fire-quacker.
Q: Which American President celebrated his birthday on July 4th?
A: The 30th president Calvin Coolidge was born on July 4, 1872, in Plymouth, Vermont.
Q: How many neighborhood and community parks are in Lake Forest, Calif.?
A: 27
Parade entries included El Toro High School's Royal Blue Regiment, Civil Air Patrol, Pacific Coast Corvettes, Beauty and the Beast, Uncle Sam and Snoopy's Bi-Plane, South Orange County Hot Rods, Spirit of New Orleans Mardi Gras band, Pirates for Hire and Red Dot Film Studios presented a tribute Indiana Jones "Raiders of the Lost Ark," which is celebrating its 30th anniversary.
An estimated 9,000 residents lined the 1.5-mile parade route that began at 10 a.m. near El Toro High School, traveled up Toledo Way, turned right on Lake Forest Drive and finished around 12 p.m. at the corner of Lake Forest Drive and Serrano Road.
Cox Communications – a major sponsor of the parade –will broadcast the parade locally on channel 3 and on demand from July 4 through August 10, 2011.
City leaders believe the annual Independence Day parade signifies the importance of embracing the city's rich, historical past so that future generations may enjoy the same hometown spirit. The city's motto, "Remember the past, challenge the future," is the Lake Forest way of life.
Thanks to the many Toastmasters and Speakers Bureau participants who make this event a success:
Toledo and Lake Forest (First Turn)

Lake Forest and Serrano (Last Turn)

Lyle Wiedeman (coordinator/lead) –

Cliff Shimizu – Unimasters Club
Ann Shimizu – Unimasters Club
Robert Acosta – Unimasters Club
Lora Burnham – Speakers Bureau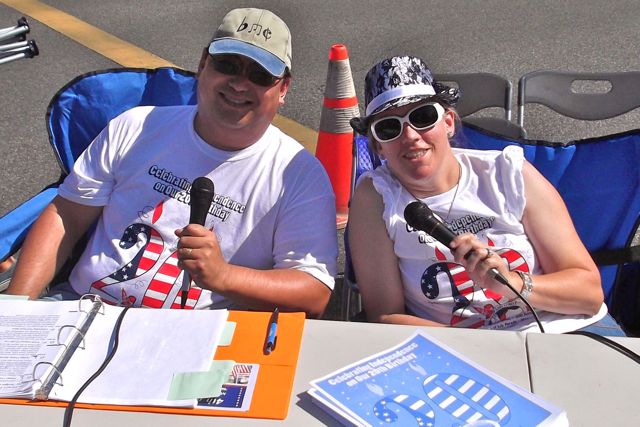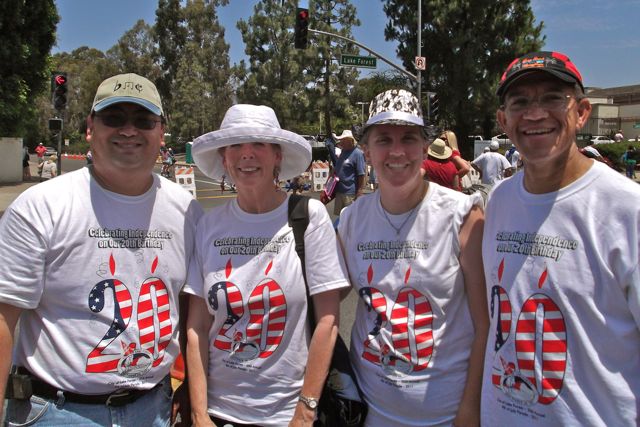 Welcome to the 2011-2012 Toastmasters year!

Friday, 01 July 2011 12:29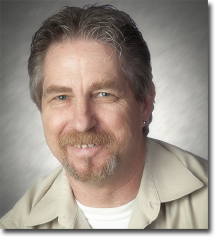 Dear fellow Founder's District Toastmasters,
Welcome to the 2011-2012 Toastmasters year!
As you may have heard already, we have achieved international recognition as a Distinguished District in 2010-2011. Thanks to our immediate past District Governor Ede Ferrari-D'Angelo DTM, District Officers, and especially you, our club leaders and members, who worked so hard to achieve this distinction.This achievement is a direct reflection of YOUR commitment and dedication to excellence all year around. My hearty CONGRATULATIONS to all!
I am convinced that we can go even further this year. You are the BEST - let's march towards our goal of President's Distinguished District in year 2011-2012. We will never know how high we can fly, until we spread our wings, right?
In Founder's District, our Toastmasters members come first. Our District Officers stand ready to support the club leaders in helping members to achieve their individual goals in communication and leadership tracks. Our mission is to enhance the performance and extend the network of clubs, thereby offering greater numbers of people the opportunity to benefit from the Toastmasters educational program by:
Focusing on the critical success factors as specified by the District educational goals and membership goals.
Insuring that each club effectively fulfills its responsibilities to its members.
Providing effective training and leadership development opportunities for club and District Officers.
I look forward to serving you as your District Governor. I am excited about the opportunities this year, especially with the new unified Toastmaster brand that is set to be unveiled at the International Conference in Las Vegas on August 17th.
Let's move forward together as we guide Founder's District to President's Distinguished. You are the BEST. Let's show the world that Founder's District is the 'apple of the eye' for the global Toastmasters community.
Sincerely,
Wes Hoover DTM
District Governor 2011-2012
Founder's District Toastmasters
Founder's District… To be the BEST… nothing less!
Founder's District Vice President of Public Relations Learn, Share and Have Fun

Wednesday, 29 June 2011 22:01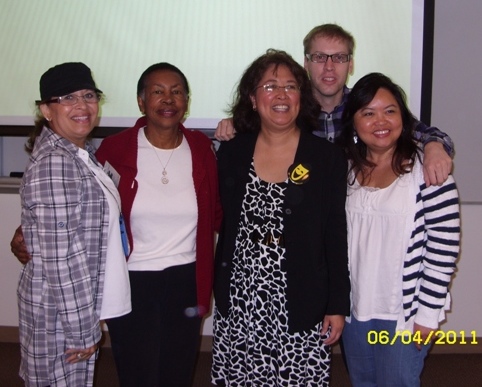 Training can be best summarized by Dr Smedley's message – "We learn best in times of fun."
Early morning on June 4th at Chapman College some 40 newly elected club officers gathered for VP Public Relations training. They entered the room, looked for handouts, and sat down while thinking the most they will be do that morning is listen and maybe ask a question or two.
The session started off with an exercise -, a game that has a prize at the end. The game demonstrated how to learn more about Public Relations techniques. In groups of four, the officers delivered their Toastmaster elevator speeches to the others.   Then, the group elected a representative who delivered the group's winning elevator speech.
Achievers Toastmasters, #9331, First in Founder's to Complete President's Distinguished Club

Wednesday, 29 June 2011 11:21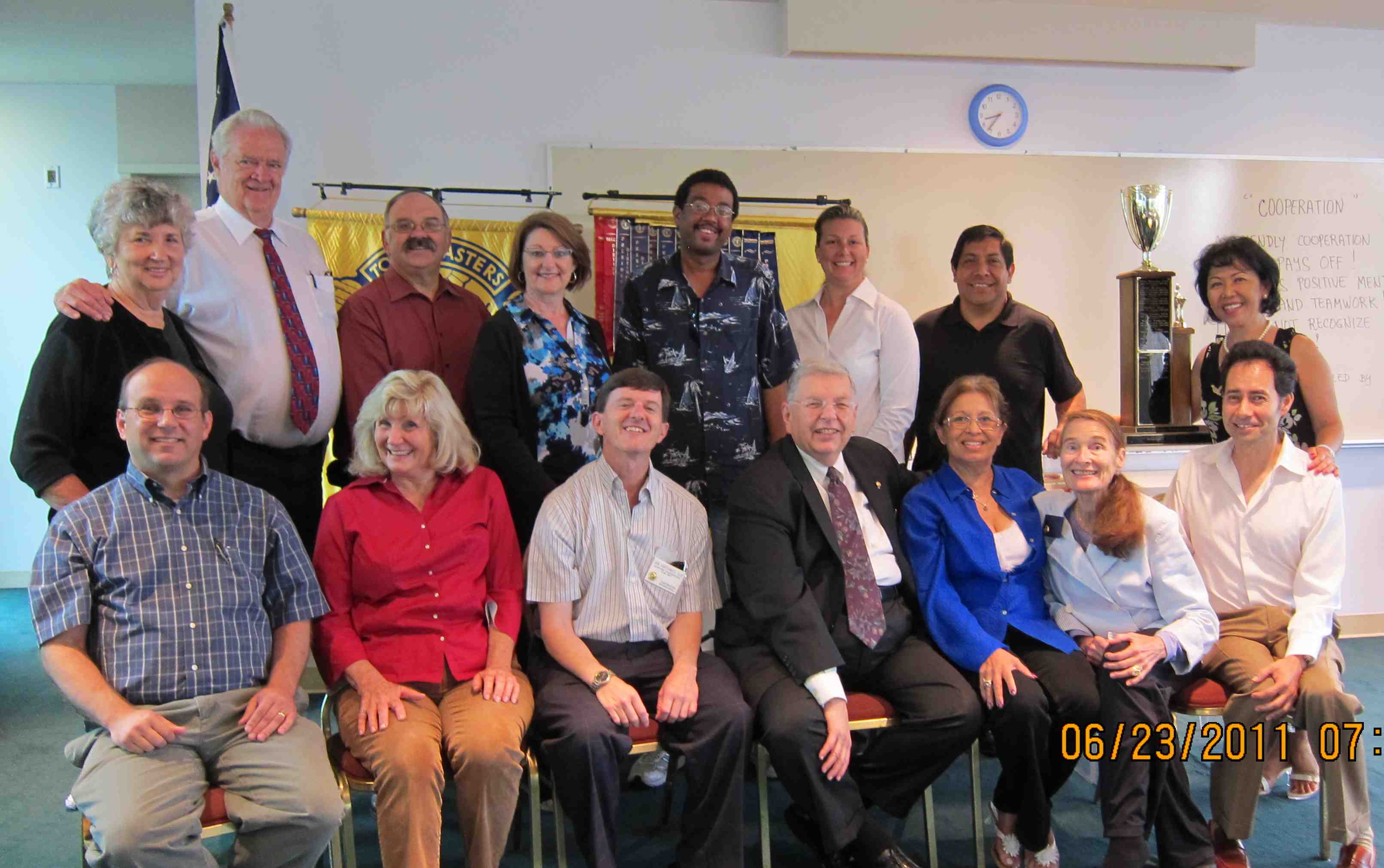 Every club I visit has a different something about it. Some call it a "club culture." Our club, Achievers 9331, is like many other clubs, but in one way it is unique - it has been President's Distinguished for 12 consecutive years.
How we do it? We practice "habits" that can be used by other clubs who want to be successful clubs, as defined by "success" in the Distinguished Club Plan (DCP) program. Achievers Club takes the Distinguished Club Plan seriously. The members' mantra is "Fail to plan; plan to fail," so we do a lot of planning and we start early. We try to have the six educational program goals completed by the half way point, January 1st.
Members Transformed

Wednesday, 29 June 2011 11:10
"Members Transformed" – That was his district theme for 2008-2009. Fellow Founder's District members, meet Distinguished Toastmaster and Past District Governor, Bob Hudack.
Bob originally joined Toastmasters to become an effective workshop presenter. Shortly after, his department stopped all workshop activities so oddly that he did not get a chance to show off his newly acquired skill as a presenter. However, Bob found that in Toastmasters you learn more than the art of presenting, such as the concept of group dynamics. He learned the need to appeal to others' self-interests in leadership activities. Yes, Toastmasters is not only about developing communication but also leadership skills.
<< Start < Prev 1 2 3 4 5 6 7 8 9

10

Next > End >>


Page 10 of 23