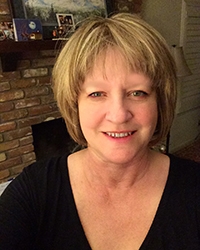 Candidate's Office: Division A Director
District: Founder's
Toastmasters member since: 2004
Education: B.A. Sociology, University of California, Berkeley
M.S. Industrial-Organizational Psychology, California State University, San Bernardino

Toastmasters offices held and terms of service
Co-Sergeant-At-Arms, Founder's District 2012-2014,
Division D Governor, Founder's District 2011-2012,
Area D3 Governor, Founder's District 2007-2008,
Treasurer, Division D, Founder's District 2008-2010
Club President 2015, 2013-14, 2006-07, VP Education 2014-15, 2012-13, 2011-12, 2007-08, VP Membership 2019-20, 2018-19, 2013-14, 2005-06, VP Public Relations 2017-18, 2016-17, 2009-10, Treasurer 2012-13
Toastmasters honors and recognition
DTM, 2012
Club Sponsor, 2012
Club Mentor, 2019
Relevant work experience and how it relates to Toastmasters and your role as a District Officer
As the Director of Research and Evaluation at the Center for Educational Partnerships at UC Irvine, I managed teams across multiple institutions in grant-funded research and evaluation of educational interventions from PreK-PhD levels. The role was data-intensive but also involved training others new to data collection and empirical methods of investigation. This experience of working with people on projects with deadlines and creative problem-solving will be useful as a District officer.
What experience do you have in the area of strategic planning?
I worked with teams to create grant documents that include educational interventions and methods to evaluate the success of those interventions in real-time to allow for adjustment if needed, which required learning to project a vision and articulate ways to make the enterprise align with it, through timely implementation, with the resources available.
What experience do you have in the area of finance?
I managed lean research and evaluation budgets within multi-million dollar grants, using partner human resource contributions and technology to reduce costs. My budgets were limited to 10% of the entire grant awards usually, sometimes 5%.
What experience do you have in developing procedures?
I expanded the unit I led in my job as Director, including establishing job descriptions, report templates, hiring and firing practices, and ways to interact with cross-institutional collaborations, particularly around data security and privacy.
What lessons did you learn from previous leadership positions?
I believe I learned more about how to influence others but also how to keep my integrity. This did not always get the respect for political skill that reigned where I worked, but when a very critical situation presented itself, integrity was predictable and therefore welcomed.
Why do you want to serve as a district officer?
I am running for Division Director because I feel strongly that leaders who stay in Toastmasters give continuity to those continuing and newly joining, and I want to give back what I can to the up and coming leaders in the District. In the process, I expect I will meet new mentors and grow as a result of whatever challenges we encounter in 2020-2021.
In your opinion, what are the district mission's major objectives and how would you work to achive them?
I would work to achieve the District's mission to create new clubs and help existing clubs thrive by using as many resources available to me to provide my team with as much help as possible, and by creating action plans and progress reports collaboratively.
Additional information about yourself: