District Goals
---
| Indicator | Now | Goal |
| --- | --- | --- |
| Clubs | 211 | 229 |
| Payments | 8376 | 9598 |
| DCP | 57 | 106 |
The News
Founder's District 2011 Fall Conference Highlights

Saturday, 19 November 2011 03:24
Fall 2011 Conference – Smiles Aplenty!
Judging by the sea of smiling faces, and positive written comments, the Founder's District Fall 2011 Confe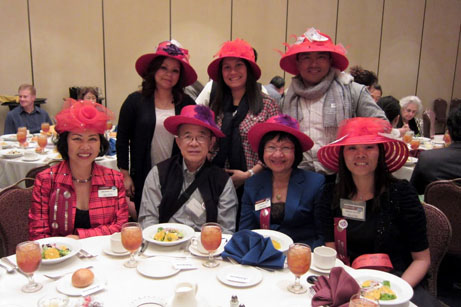 rence held on Saturday 12th of November was a resounding success. The conference team has been planning and preparing for this event months in advance, under the direction of our Lt Gov of Education and Training, Victoria Dotson, DTM, and spearheaded by the District Conference Co-Chairs, Dan Cossack, DTM and Jeanne Cassidy, DTM.
On the day of the conference, volunteers began to arrive well before sunrise to prepare the venue, set up the registration table, educational materials store and the opportunity drawing tables (photo shows the red hot/hat opportunity draw team). After a packed day that commenced with the business meeting, and interlaced with inspiring and entertaining speeches, workshops and fabulous speech and evaluation contests, the Founder's District Toastmasters and guests left satisfied. Rread more for some highlights from the Conference.
Visionary Leaders Find and Fill a Need


Saturday, 19 November 2011 02:59
A New Club Is Chartered -- Tech Tools Toastmaster Club No. 1
By Dr. Patricia Adelekan, DTM, Founder's District Journalist Chair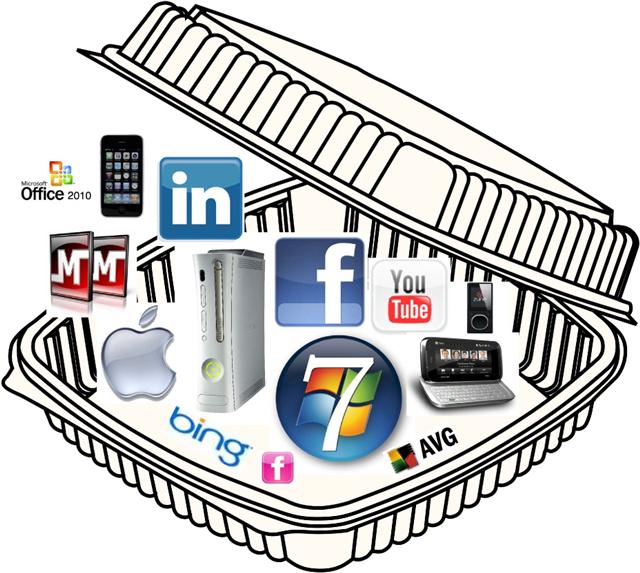 As a second-time Area Governor and a mature adult, too often, I have witnessed and encountered individuals (including myself) who just do not know much about current technology and technological tools. Frustrated with the thought of it all, we procrastinate touching the devices/gadgets, let alone trying to find out more about them. Too often, we amass the gnawing quiet feelings of being "left behind."
To harbor such feelings is not the solution. So I decided to fill the gap and face my fears and frustrations-- and take along others with me -- in a Toastmasters' Club. Isn't the theory behind Toastmasters to conqueror the fear of public speaking in a positive and supportive learning environment with compassionate, supportive and kind servant leaders? Yes, that's it. Get a Tech-savvy Toastmaster with a warm and caring heart and convince him or her to HELP, HELP, HELP and GUIDE,GUIDE, GUIDE with patience and kindness -- and to share his or her knowledge with those of us who are not as knowledgable with technical issues.
When I first shared my thoughts with my Inner Strength Toastmaster Club President, Matt Bryant, ACS and other club members, they all said yes -- they understood my dilemma and could relate with my problem. Next, I shared my thoughts with a colleague, Linda Jaeckels, DTM, who expressed joy because she said she once cried at not knowing how to navigate the internet and other tech tools -- she too had a need for such a Toastmasters Club. And my Division E Governor, Krish Krisnamurthy, ACS, ALG, whole-heartedly supported the idea.
Within two weeks -- we held a Demonstration Meeting on Oct. 31, 2011; 18 people showed up. At the end of the meeting, we had 17 interested Charter candidates. Three (3) days later, on Nov. 3,2011, Toastmasters International chartered 26 members of the new Tech Tools Toastmasters Club No. 1.
Tech Tools No. 1 meets on the 2nd Saturdays of the month from 8-10 a.m. at 891 S. State College Blvd. (Tryol Plaza Club House) Anaheim, CA 92806. Visitors are encouraged to attend. For more information about these "hands-on" educational communication and leadership meetings, please feel free to contact Matt Bryant, President at (949) 633- 4977 or email: This e-mail address is being protected from spambots. You need JavaScript enabled to view it or Krish Krishnamurthy (Division Governor & Club mentor) at (949) 735-239 or email: This e-mail address is being protected from spambots. You need JavaScript enabled to view it . Bring your computer, questions and "fear" along.
Founder's District Facebook Page

Saturday, 19 November 2011 02:17
Facebook Is Here to Stay

By Mahesh Mike Patel, DTM, Founders District Social Media Chair

Facebook...we have all heard about it and whether we like it or not, it is here to stay. More and more companies, organizations and non-profit groups are embracing Facebook and other social media sites. Toastmasters International and our very own Founder's District are no exception. They are both active participants on Facebook.com as well.
If you haven't already discovered the Founder's District Facebook page, here's where you can explore it: https://www.facebook.com/FoundersToastmasters.


Through this fan page, members and visitors can stay connected and are able to engage with other members and visitors; they are able to post Club and other Toastmasters related information. Important News and Events can also be posted and sent out to members using Facebook. Many of the members found out about our Fall Conference that was held on Nov 12th at Cerritos Sheraton via Facebook. The news that November 12th is the official "California Toastmasters Day" was posted on many of the Toastmasters Fan pages just as it happened, and many of the members including myself found out about it through Facebook fan pages.
Grammarian's Corner: Non-Count Nouns

Saturday, 19 November 2011 02:04
Can You Count Them?

By Bob Hudack, DTM, PDG
Most nouns in the English language can be counted. For example, one girl, two girls, three girls etc. One stopwatch, two stopwatches, three stopwatches, and so on…

But there is another class of nouns known as non-count nouns or mass nouns. These types of nouns do not usually take a plural form. Some examples are: "feedback," "traffic", and "jewelry."
How to tell? Non-count nouns are often substances which cannot be easily counted, or they may be large abstract ideas such as "nature", "space" or "entertainment".
Using non-count nouns properly will help your speeches sound much better. We do not say, "There were three traffics…" Instead we say, "I ran into traffic..."
If you think that you may be misusing non-count nouns, there are many free resources online to help you. Just search for "non-count noun". One web page I like is http://www.eflnet.com/tutorials/countnoncount.php, which has short explanations, as well as links to self-quizzes you can take. Another good reference is from the University of Victoria http://web2.uvcs.uvic.ca/elc/studyzone/330/grammar/count.htm. There are even YouTube videos about non-count nouns. Master the use of non-count nouns and your speech will sound that much better.
Free Toasthoast 2.0 Is Here

Saturday, 19 November 2011 01:14
FreeToastHost Is Upgraded!

FreeToastHost (FTH) is a free webhost service for Toastmasters clubs provided by a group of Toastm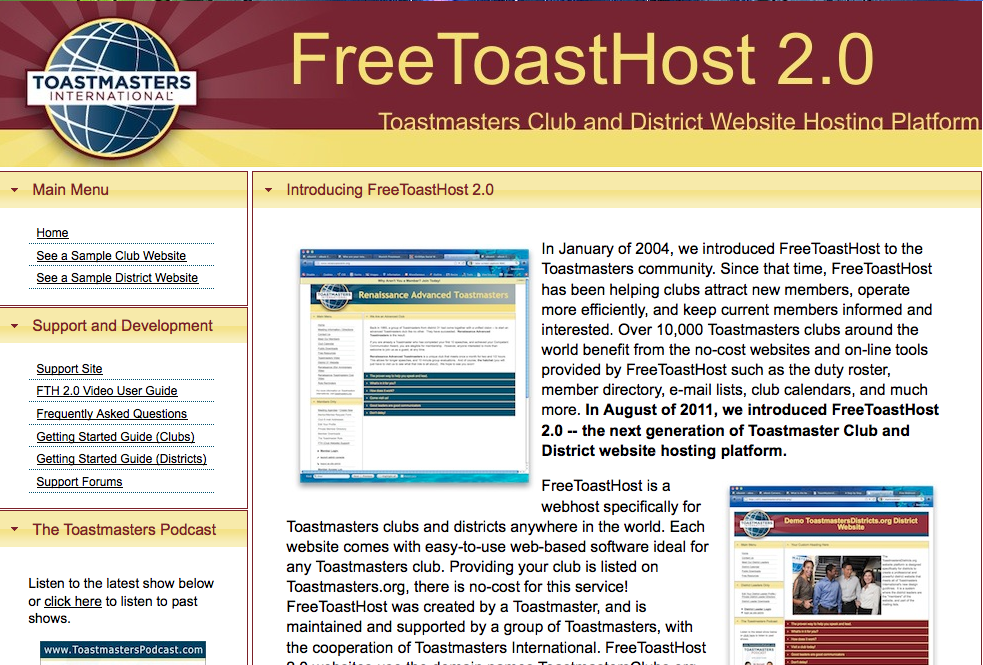 asters since 2004. FTH is used by approximately 10,000 clubs worldwide. FTH comes bundled with useful tools such as duty roster, member directory, e-mail lists and club calendar. 
If your club already has a website built on FTH 1.0, note that as of August 27, 2011, FTH 1.0 has been upgraded to FTH 2.0, the next generation Toastmaster Club and District website hosting platform.
FTH 2.0 provides three website templates, all conforming to the new brand of Toastmasters International. To get started, go to http://www.toastmastersclubs.org
<< Start < Prev 1 2 3 4 5 6

7

8 9 10 Next > End >>


Page 7 of 23