Mission Statement
Post monthly articles to recognize Founder's District clubs and members' achievements, inside and outside of the Toastmasters club environment, and spotlight the tangible skill sets learned and applied to achieve their Toastmasters mission and goals at the district, division, area, club and individual levels.
Objectives
Promote the Toastmasters International educational programs and membership growth through articles and ideas that help and motivate individuals achieve educational goals.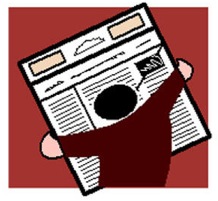 Responsibilities of the Newsletter Chairperson
Articles need to be written for a target audience of non-Toastmasters.
Produce a minimum of two (2) quality articles per month during the Founder's District's twelve month fiscal year.
Each article will "spotlight" one or more club or member within the Founder's District by completing theSpotlight Questionnaire.
Jul-Aug-Sep typically highlights each of the newly elected District Leaders as we like to lead by example

Division and Area Governors throughout the District are encouraged to submit names

Each article will contain mini-biography of individual member, their club, and website
The Newsletter Chairperson is to assemble the Founder's newsletter from Spotlight Questionnaires and other submissions
It is conceivable one person can handle writing, editing and posting articles based upon the preceding format

Additional writers are encouraged to participate with articles and layout

Encourage at least one Toastmasters Club to "adopt" the newsletter as an annual High Performance Leadership project

Newsletter Chairperson is to find his/her replacement prior to the end of the fiscal year (June)