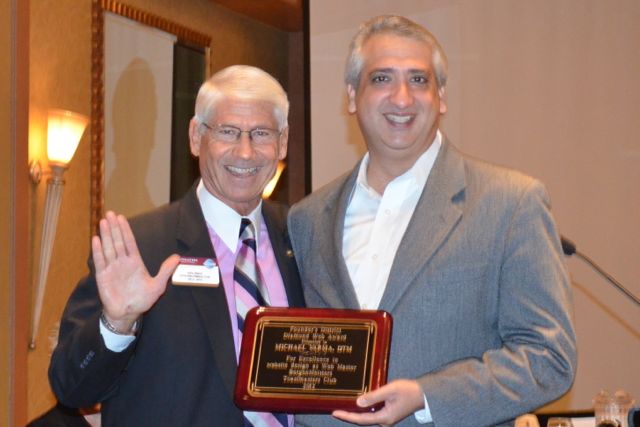 By creating a new website using free Google Site software, Michael Varma was awarded the Diamond Web Award at the Toastmasters Founder's District Fall Conference on Saturday, Nov. 4, 2012, at the Sheraton Hotel in Cerritos, California.
Varma, a Distinguished Toastmaster and webmaster for the BergenMeisters Toastmasters club, created a new informational and interactive website for the public speaking organization that gives site visitors the ability to communicate more effectively at work and at play .
"The new Google tools are simple to use and it took me less than 30 minutes to set up our club website," said Varma. "I presented the initial pages to our members, solicited feedback and kept adding pages, pictures and resources as requested. It was a team effort."
Entries were judged by independent web designers on content (65%) and presentation (35%) with an emphasis on portraying the benefits of the Toastmasters program to meet personal and professional goals.
"The judges confirmed his club website is a colorful smorgasboard of pictures, events, tips on leadership and public speaking and even a few jokes along the way ," said John Barry, the Founder's District Community Relations and Recognition Chairperson. " It's an excellent example of how a webmaster with creativity and technology can design an attractive website that club members can be proud of and is very impressive to guests and visitors as well ."
BergenMeisters Club President Kevin Moniz said, "We knew we had to make our web presence a top priority. Thankfully Michael worked his magic to bring our website into
modern times. It has paid off more than we expected; our last nine club members found us online. We can now help more people learn public speaking skills in a supportive setting."
About BergenMeisters
BergenMeisters Toastmasters club meet on the 2nd and 4th Thursday of each month from 12 to 1 p.m. at 505 City Parkway West, Orange, CA 92868. For more information about the club, please visit BergenMeisters.org.
About Toastmasters International
Toastmasters International is a nonprofit educational organization that teaches public speaking and leadership skills through a worldwide network of clubs. The organization currently has more than 260,000 members in approximately 12,500 clubs in 113 countries. Since its founding in October 1924, the organization has helped more than 4 million men and women give presentations with poise and confidence. For information about local Toastmasters clubs, please visit toastmasters.org .