Tools 2 Lead club is more than a club, it is a family; and the club proudly displays their fondness for one another by spending lots of time together! Of course our family attends various functions sponsored by Toastmasters such as area, division, and district contests, conferences, and bi-annual LACE trainings—as is the usual protocol with most clubs. Our family also builds and strengthens its bond, and thereby retains its members by hosting a plethora of fun-filled annual activities that have become a staple of the Tools 2 Lead family. One such event is the Annual Spring Big Bear Weekend Retreat. This retreat gives its members the opportunity to unplug from the every day hustle and bustle. Members are encouraged to bring family and friends to join in the fun! T2L members find recluse in either warm cabins owned by Vincent Vo, one of its members or a cozy hotel near the lake. Members bring their favorite dishes, wines, board games, and movies and enjoy each other's company in a relaxed and calm atmosphere. During the day, members will spend time outdoors while going for a walk/hike and take in the clean, crisp, fresh mountain air. If weather permits snow play is also an option for those looking to get into a little snow ball fight! In the evening, the T2L family will either enjoy dinner at local restaurant or host a potluck-style dinner back at one of the cabins. Wine tasting is a must during the retreat and you can usually hear soft jazz playing in the background as the old fashioned stove provides its gentle warmth.
Another event that Tools 2 Lead is known for is its Annual Summer party at The Payakapan's. This event is notorious for beginning at lunch time and ending with dinner and coffee! Once again, food and great company is the common denominator! A vast ocean of food grilled, sautéed, marinated, and fried is ready to be consumed and as customary, desserts are always plentiful! T2L members, their friends, and family are never short on food or laughter! Guests are invited to enjoy their multiple meals outdoors throughout the day in order to take in the beautiful back yard garden which includes extravagant flower blossoms and the sweet scent of various fruit trees. Young children and seasoned Toastmasters can be heard laughing in unison as a warm summer breeze sweeps the laughter and fragrances about. In the fall, Tools 2 Lead members look forward to another annual tradition, Wine Tasting and Potluck! Members meet at the home of Mr. and Mrs. Lane (Toastmaster alumni), then caravan to two pre-selected wineries, sample the bounty of wines, then head back to the Lane's to enjoy the day's wine findings and pot-luck style dinner. Music and laughter tickle the ears of those in attendance while members share their Toastmasters experiences, challenges, and achievements!
Winter brings the traditional Thanksgiving and Christmas holidays. Both occasions are celebrated at the office from 12 – 1 pm and offer another opportunity for T2L members to foster already close bonds. Thanksgiving comes complete with a traditional Thanksgiving meal and a modified meeting agenda. Table Topics usually take on the theme of giving thanks. The T2L Christmas Celebration is known for its White Elephant gift exchange; members hope not to have their treasures "stolen." Beautiful Christmas decorations in reds, greens, whites, and gold fill the conference room, while food, music, and laughter stimulate the senses! It's amazing how much food and fun can be had in just one hour!
You may ask yourself, "When does any real work get done with so much food and laughter going around?" The answer is simple-it is the food and laughter that help bring in new members and keep current ones coming back!
Tools 2 Lead prides itself in being not just a club, but a family. While its family environment is conducive to fun and laughter, T2L also takes its commitment to reaching club goals, personal development, and serving outside the club very seriously. Earning President's Distinguished multiple years, this club also produces speech contest winners who have gone as far as District level when competing in the Humorous Speech Contest; and multiple members have taken leadership roles while serving as Assistant Area Governors, Area Governors, and Area and Division contest chairs.
Warm and encouraging family atmosphere, food and laughter, and the occasional therapy sessions are what help Tools 2 Lead retain memberships. Commitment to reaching club goals and personal development is what keeps this club strong and thriving!
---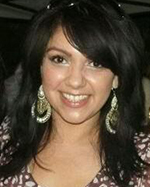 Claudia joined Toastmasters in November 2009 and is currently serving as Club President for Tools 2 Lead. She loves competing in speech contests and mentoring. She enjoys reading, planning, and hosting parties and get-togethers, and spending quality time with friends and family.