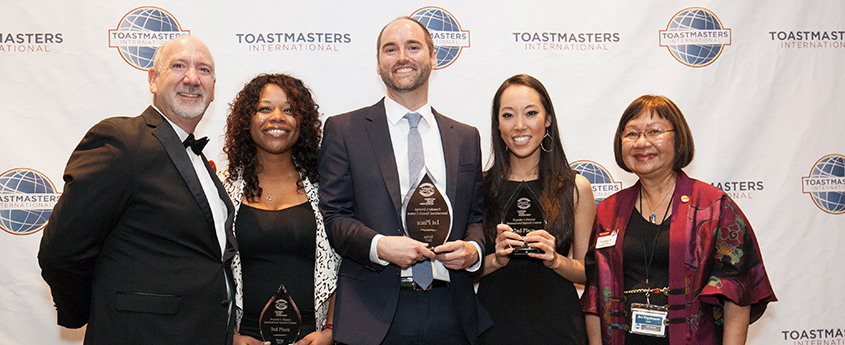 Daniel Midson-Short to Represent Founder's District At Toastmasters International Speech Contest Semifinals
Irvine, California, April 26, 2017 - We are pleased to announce that Daniel Midson-Short will represent Founder's District at the Toastmasters International Speech Contest Semifinals. The competition takes place at the organization's 2017 International Convention, to be held August 23-26 in Vancouver, Canada.
Daniel, a member of Coastmasters in Dana Point, California, surpassed fierce competition to win over the judges with his speech, "Secret Power." The speech touched on the themes of courage, passion and finding your talents in life. When it comes to connecting with an audience, he said, "is to share a story that is relatable and entertaining for them."
Daniel will compete with 101 other District Toastmaster winners from around the world who advanced to the 2017 semifinal round after a six-month process of elimination through club, area, division and district speech competitions. Their five- to seven-minute speeches are judged on content, organization, delivery and style.
"Toastmasters speech contests are another way to build your confidence, sharpen your skills and speak to many different audiences,"says Daniel. "I am looking forward to once again competing on on the semi-final stage in Vancouver!" Daniel is a professional speaker and workshop trainer based in Orange County, California. He joined Toastmasters 5 years ago to become a better speaker and share his message with a wider community.
The Toastmasters International Speech Contest began in 1938 and is the world's largest speech contest, involving 30,000 participants from 142 countries. It culminates with the popular World Championship of Public Speaking held annually at the organization's International Convention.
To interview Daniel, learn more about the contest or Toastmasters club membership, contact Michelle Bender at This email address is being protected from spambots. You need JavaScript enabled to view it.. Follow @Toastmasters International or Daniel @midsonshort on Twitter to track Daniel's progress.
For more information about the 2017 International Convention, please visit the following website:
http://www.toastmasters.org/events/2017-International-Convention.
About Toastmasters International Toastmasters International is a worldwide nonprofit educational organization that empowers individuals to become more effective communicators and leaders. Headquartered in Rancho Santa Margarita, Calif., the organization's membership exceeds 345,000 in more than 15,900 clubs in 142 countries. Since 1924, Toastmasters International has helped people from diverse backgrounds become more confident speakers, communicators and leaders. For information about local Toastmasters clubs, please visit www.toastmasters.org. Follow @Toastmasters on Twitter.
# # #