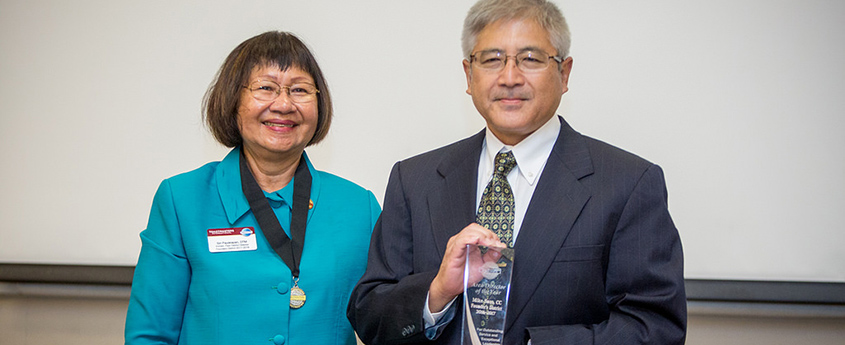 Founders District is very pleased to announce that Mike Sato, Area G3 Director, is the Founder's District 2016-17 Area Director of the Year.
"Mike's dedication and commitment went above and beyond what I have seen from other area directors. He visited his clubs several times throughout each 6 month period," said nominator and Division G Director, Cliff Shimizu. "He delivered trophies to our area and division contest winners and worked diligently to ensure the success of each club."

Sato addressed challenges in his area with dedication and commitment. Three of his four clubs faced relocation of their meeting sites in the past year and Mike was directly responsible for arranging a new meeting location for one of those clubs.

Despite the challenges, Mike's area is currently distinguished. Two of his clubs have the DCP points to be distinguished and only need a few more members to be at charter strength.

Faced with a particularly struggling club in his Area, Ziggurat 425, Mike joined the club as a member, even though this would preclude him from receiving credit as a club coach. The club had 8 members before Sato joined and now has 15 members and became a Select Distinguished club.

According to Shimizu, "Mike was committed to helping the club and made them commit to rebuilding their club. He worked with the club and the members worked hard as a result. He pulled in the support of the division and nearby clubs to boost the attendance and speakers at the club. Members of the club were helping at the Fall Contest as functionaries and by the Spring Contest, the club was sending contestants".

"The turnaround," said Shimizu "has been nothing short of remarkable."

Mike not only led the turnaround of the club, he recorded his efforts in the form of a case study which he voluntarily wrote up.

Mike is now involved in the process of chartering the Ware Malcomb club. This prospective club needs only three more applications to charter. The club has already started conducting their own meetings, beginning on June 2nd, 2017.

In addition to his tireless work with his clubs, Division Director Cliff Shimizu noted several occasions where Mike assisted his Division. "Mike also jumped in as the Division G Chief Judge when past district governor, Colette Gardner, was no longer able to attend due to her medical condition. He also aided Division F as their area contest chief judge, and helped guide Jean Tanquary as a brand new chief judge for the division contests", Shimizu said.

At the end of the day, Mike left no stone unturned as he helped build a new club within his area while assisting his established clubs in achieving excellence.
Founders District congratulates Area G3 Director, Mike Sato, for his outstanding work with his area and for his inspiring leadership by example.