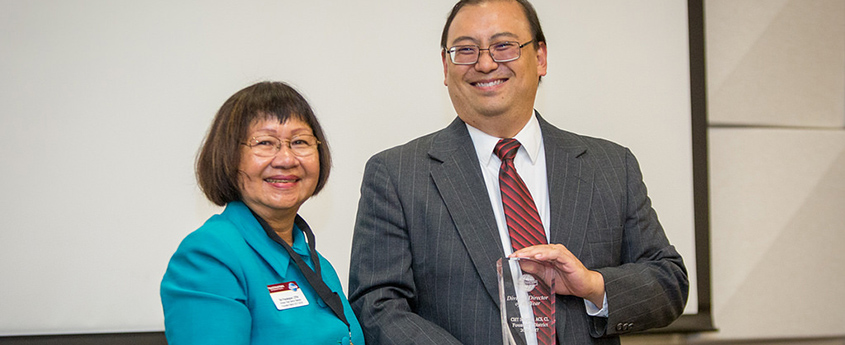 How does a software engineer who can spends hours in the dark, playing video games, alone, without moving a muscle... become an inspiring speaker, a master of the stage, a Contest Master, an empowering leader and a motivational force in the success of others?
Let me tell you that story... it will inspire you, it will encourage you, and it will make you want to stand up and cheer!!!
Yes fellow Toastmasters! Let me tell you about the journey of Cliff Shimizu, ACS, CL - a journey that began a long time ago in a galaxy far, far away...
In 1998 two seasoned and influential Toastmasters in Founder's District (Avis French, CL and Colette Gardner, DTM, PDG) were working at Unisys, as was Cliff. They were rebooting the corporate "Unimasters" club and suggested (in their typical gentle way) that Cliff join them to be a Charter Member. With an understanding that Cliff's manager had encouraged him, AND that Cliff's office mate was none other than Mitchell Knight - another seasoned veteran in Founder's District and President of the club - of course Cliff agreed.
Cliff knew enough about himself to understand how beneficial this first step would be ... he felt comfortable in one-one situations, but large groups made him freeze! He focused on the development of his speaking skills, never thinking about leadership - he was happy giving speeches. Of course he held club officers roles - he was among friends and colleagues at Unimasters, that was his comfort zone; he worked with them everyday - no stretch to help manage the club by taking a role now and again...
Cliff was very happy with this state of affairs - for 17 years he was happy with his journey.
Something changed in 2015... as was often the case, the incoming Division Director asked if Cliff would be an Area Director. Cliff's answer had always been an unequivocal "No". But this year, he said "YES".
What happened.... was it that Cliff had a change in career, maybe a mid-life crisis, or did they just wear him down with the question year after year? We may never know exactly what he was thinking, but we do know he has great respect for Marie-Noelle Palermo, ACB, ALB; he wanted to work with her and her Division G team; he was just beginning to see that the whole is so much more than the parts - that every club member contributes to the larger organization by inspiring and supporting others. Saying "Yes" was the catalyst Cliff needed to stretch his leadership wings, test the water, expand the envelope, step outside the box - you know what I mean - take that first step into District Leadership!!!!!
Cliff knew he would be challenged in this new leadership role, but he also knew three things would help him succeed: 1) his mentors (Avis and Colette) would encourage and support him; 2) Marie-Noelle was a proven leader and would provide the vision and leadership for a successful Division G team; 3) Ann Shimizu, DTM was also going to be an Area Director that same year... how could he fail?!?!
Cliff's success as Area Director that year (2015-2016) extended beyond the reports, the training, the meetings and the contests... what he learned about himself, about working beyond his personal boundaries, about how to mentor and inspire others, about the acts of leadership - this experience instilled in him the drive to see beyond his own needs and objectives and to focus on the development and success of others. It instilled more deeply in him the idea of and the practice of servant leadership.
Then, a funny thing happened... In the Spring of 2016, the Spirit of Excellence award recipient delivered a game changing statement that transformed how Cliff saw his own Toastmasters journey. He heard a phrase that resonated with him then and continues to drive his commitment to servant leadership. The speaker said "I had taken so much. It was time I gave back."
Cliff turned to Ann and said: "We should run (for Division G Director)!"
Ann's practical reply: "Why both of us?" Cliff: "Because it will be FUN!!!!!"
What happened to the dark room and video monitor as your only friend? After 18 years Cliff saw the light - giving back as a servant leaders was now his passion.
Born in that moment was the TRIO approach to Division G: Cliff, Ann, and Raymond (McCullough) all ran - no matter who would win - they would act as a trio in driving Division G success... well, we all know how that turned out. And yes, the Trio approach to leadership for Division G worked flawlessly. With a combined vision, Cliff's pursuit for inclusive leadership, and an outstanding crew of Area Directors, Division G soared into success as a President's Distinguished Division - that is how to define leadership!
Cliff spoke to his Division council each month about his leadership passions, his expectation for pushing boundaries, how to reach for success, his inspiration for mentoring others - his message could not have been clearer; it resonated with each Area Director - the results speak for themselves.
Now that his term as Division Director is complete, his leadership goal has shifted ever so slightly.... he no longer cares to pursue success in his own interest, but rather - in the true sense of a servant leader - his joy is to encourage and support others in their pursuit of excellence.
Cliff - We applaud you! We cheer for you, and for those whose journey you have inspired. We ask you to continue to be the leader, mentor and visionary you became once you stepped outside of your comfort zone. The District awaits you...