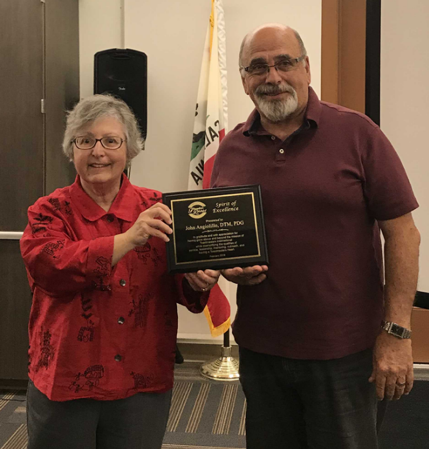 Past District Governor and Distinguished Toastmaster, John Angiolillo, receives the Spirit of Excellence Award. Current Founder's District Director, Diana Dee, presented the award at the District Executive Council meeting on Februrary 14, 2019.
Angiolillo recognized the crucial need to keep club and district officer contact data current and, for many years, has volunteered to maintain the District Directory and update vital officer training data throughout the Toastmaster year. For example, the day after club officer training at the Leadership And Communication Experience (LACE) event last January, John swiftly compiled the officer training data and made it available to the district leadership. Those in district leadership positions know that John is consistently dogged in pursuit of the data needed for the District Directory.
John's positive, proactive spirit goes above and beyond expectations by providing outstanding service to the district. We thank John for his hard work and dedication.
The Spirit of Excellence Award is given to recognize a member who has had a big impact on many members throughout the District. Recipients embody the qualities of mentoring, leadership, service, outreach, and most of all, a Toastmaster's heart.
The District Directory and Calendar is painstakenly updated twice a year and hard and soft copies are provided to district leaders and chairs. The club officer training results are published on the Founder's District web site and updated in near real-time during the two training periods each year.