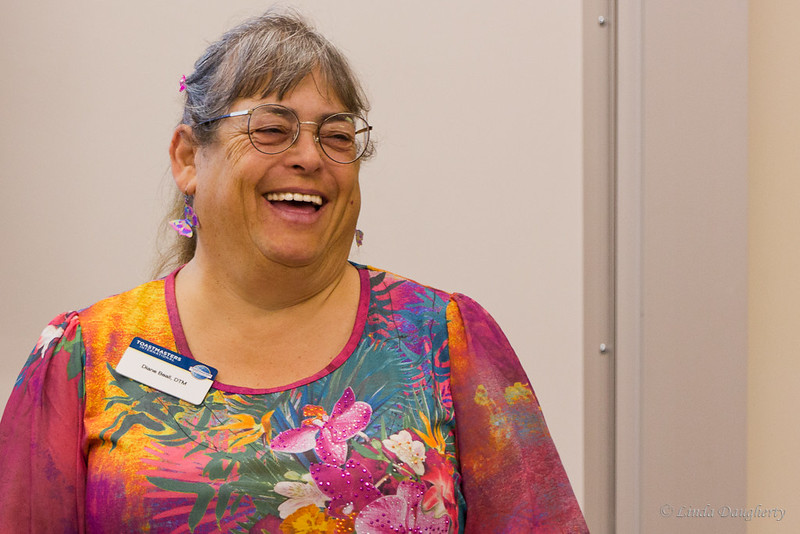 Today we mourn the loss of a titan in Founder's District, a model Toastmaster and friend to us all. Our dear and faithful friend to many has left our world a little less bright. Diane Beall, DTM (x3) passed over on Monday, July 13. Diane had been an active member since 1997 and served in every major leadership support role in the district. She never received any district recognition award for her service, but working mainly behind the scenes she inspired, mentored, and influenced many who have. Those who have ever been touched by her may look back and remember how substantial she has been to the daily machinations of the district, and the real and emotional support she provided.
Diane was a rock - so dependable, so knowledgeable, so willing to help, to educate and to encourage others. The definition of self-effacing, she shied away from front-line leadership roles in favor of seeing to it that others were supported in their attainment of leadership excellence. Diane impressed everyone with her knowledge of Toastmasters and never hesitated to help when asked. She was an exceptional wizard at planning LACE trainings and all things concerning finances. Diane trained many Division Treasurer Toastmasters, including decorated leaders such as Linda Ulrich, DTM, PDG. Diane never wanted to go far up the leadership ladder, but she made an impact by helping others on their journey.
Diane loved Toastmasters! She was a member of more than 20 clubs throughout her years in Toastmasters. As her leadership roles and personal life changed, so did her clubs. She earned three DTMs while in Toastmasters, serving in every club officer role, District Treasurer (twice), LACE Chair and trainer, Club Coach Chair, District Conference Chair, New Club Chair, District Chief Judge, District Parliamentarian, and a host of other district offices. She helped charter 10+ new clubs and served as Club Sponsor or Club Mentor for each of them. She was also Club Coach for several clubs. She excelled at being a facility coordinator, making sure every detail was tended to before an event. But where she loved to be the most was at a registration table at a district conference or at LACE training. She loved being around people and that seemed to be the place.
When there was a need, Diane was there to fill it, sometimes taking on more than seemed humanly possible. She had a matter-of-fact, no-nonsense way about her that let you know you were dealing with someone who truly had your best interest at heart, and would stick by you until you met your objective.
Working with her was a lot of fun – and you always walked away with learning something new. She never made you feel bad when you didn't know something, and she was a great and patient teacher. Perhaps this was why many people loved working alongside her.
Diane was a true servant leader whether it was Toastmasters or any other organization she served. She was never afraid to roll up her sleeves and take on any task that came her way. She made it look effortless. Diane was always present, even when her health wasn't up to par. She never expected or demanded the limelight. She just had the ability to make things happen.
She never micromanaged but was there for support and guidance when needed. Those she mentored developed very important skills to take into work and personal life, and we have Diane to thank for that. She made a positive and lasting effect on everyone she stepped up to teach and develop over the years.
Diane loved to travel with her friends, and was most considerate of her travel companions, such as pre-paying for the group to be picked up at the airport by limousine. She always made a point to spend private time with you and make sure you are having a good time.
Diane was a lot of fun to be around. Whether traveling on an Alaska cruise and getting extremely seasick, taking a road trip to Nevada, or just spending time at her home, you always had an opportunity to learn, grow, laugh, and have a great time. Diane was a great cook and host to so many of us that considered her house as our home away from home. You were always welcome, you were family!
Besides her big smile, Diane always wore bright colors, that cheered all of us. One knew exactly what to get her for gifts. She showed her appreciation by wearing her gifts at many Toastmasters events.
Diane was a member of Achievers club, during the era when Achievers met at the Crystal Cathedral in Garden Grove. She was also a former New Yorker "transplant" who became a devoted member of the Garden Grove community. Diane was devoted, constant, and steadfast to the home spun values of life. She treasured the friendliness of Main Street, in Downtown Garden Grove.
She was proud of the fact that she had lived in Southern California most of her life, all within a 15-mile radius. Her Jewish heritage gave Diane the foundation and strength that guided the course of her life. She and her husband, Bill, had Harley motorcycles; she finally sold hers last year. For many years, she belonged to the Southern California Cowboy Shooting club, winning many competitions and trophies throughout the years. Her earlier years with Bill were difficult and she found comfort and help through the AlAnon organization, where she served many leadership roles and mentored many during her years of service to that organization. She enjoyed making jewelry and no-sew quilts, which she gave away to family and friends. While working, she put herself through the University of Phoenix's computer and business systems programs. After she graduated, Diane was sought after for her business/computer acumen in the development and utilization of complex business systems. She finally retired in January of this year.
One day, during a speech in a club meeting, Diane spun a descriptive tale about historic Downtown Garden Grove. Her speaking power titillated audience imagination. Her descriptions of Downtown Garden Grove conjured up images of Old Towne, Orange, Tustin and Santa Ana.
We were smitten! Her descriptions and story enticed us. Sensing our curiosity, following her speech, Diane invited us to experience the friendliness and charm of Main Street, Garden Grove. Most especially, she wanted to introduce us to her favorite breakfast spot, 'Kaye's Kitchen.' She revealed hints about this famous restaurant nestled between other store fronts on the "Historic" stretch of Main Street. She was playful, keeping us guessing, despite our barrage of questions. She played the game of keeping us in suspense about the "jewel" of Garden Grove, at 12939 Main St. She had a fascinating mindset. She used her mind to challenge herself as well as others!
We arrived at Historic Main Street. It met all our expectations and more! Despite the mid-morning rush, we were able to choose from inside and outside seating. We chose inside. The old-fashioned high ceilings reminded us of Watsons Drug Store, just off the City of Orange Circle. It felt like being back in the 1950's. The food and service were great. Warm greetings and deference surrounded us. Everyone knew Diane. Fondness on the part of the staff made you want to keep coming back, which is why everyone, and most especially Diane, kept coming back.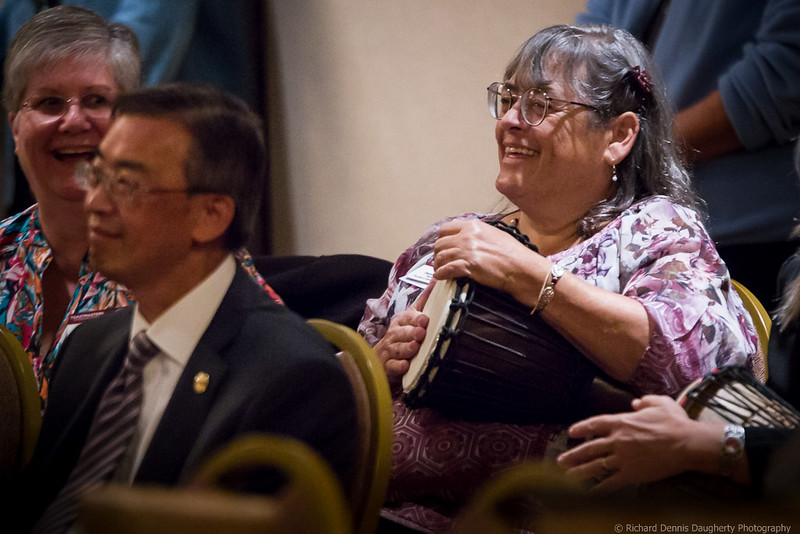 Diane loved bears and boxers! Several of her boxers were rescues, but she loved them like they were her children. The two most recent were Rusty, that passed a few years ago, and her beloved Rocky. She loved traveling and anything outdoors, except heat and humidity. Her home was filled with paintings of outdoor scenes and statues of wildlife and pictures she had taken over the years; some won awards at her Lensmasters Toastmaster meetings. If you were invited to her home, you would see that the main focus of her décor was bears – hence, "Bear" for her nickname.
Diane's home was always open. She loved to entertain and cook for her guests. And, you better come hungry because she was a great cook and always offered lots of food. Fruit trees – she had apples, pluots (cross between plums and apricots), lemons, oranges, and a couple of others. Diane welcomed anyone to bring a bag, fill it, and take it home to eat or share. She was forever making and giving away jellies and jams. Many memorable Toastmaster meetings were held in her home over the past 30+ years, planning strategies, sharing ideas, friendship, fun, and food.
Diane loved her renovated backyard (it was peaceful, especially with the fountain bubbling) and her many fruit trees. She knew what fruits people liked and every year, we would get the call to bring our bags because the Fuyu persimmons and blood oranges were ripe. We would make more than one trip just to help her get rid of them – what were friends for?
Diane's loyalty knew no bounds, whether it was to Bill her husband, who was housebound for many years, before he died, last year, or her two huge, and meticulously cared for dogs. At Bill's memorial, we witnessed Diane conversing with her dogs and they responded with vocalizations and body language. Diane never allowed her dogs to miss their daily walks. We often heard her tell us she could not stay at an event because she had a walking date with her dogs.
Making memories with past District Governors, Alanda Dyer, DTM and Victoria Dotson, DTM, the three went on a "Ring of Fire" road trip of some of the volcanos in the Pacific Northwest. Diane knew her volcanos! There was such a joy on her face as she regaled everyone with stories to go with each volcano. The whole sightseeing adventure kept us laughing.
Toastmasters received the same loving commitment. Diane stood up under pressure! Whether it was fulfilling club roles or serving in District leadership. As a public speaker, Diane was clear, and able to conjure in the mind's eye how the story looked and sounded. She was brilliant, highly competent, and reliable. She was able to take things calmly as a defensive wall one could count on. Diane worked for large corporations, handling the kind of jobs requiring detailed analysis, yet that did not stop her from rising to every occasion when Founder's District had a need. We refer to Diane as a Titan. It fits her perfectly. She was strong, powerful and stoical, an enormous contributor to Founder's District who will never be replaced.
An inspiration to all and a dear and faithful friend to many has left our world a little less bright. But our lives are so much better because she was part of them. Life was not always kind to Diane, but she always came out the other side of each trial with hope for a better tomorrow. Now she's gone to see that the facility is ready for us when we cross over and I'm sure she'll be sitting right inside ready to check off our names as we arrive.
So, to our friend, Diane, thanks for all the memories and experiences we've had. You taught us much, you made us laugh, then we cried because we have lost someone very special.
---------------
Contributions to this article by Linda Ulrich, DTM, PDG, Alanda Dyer, DTM, PDG, Frannie Stein, DTM, Siri Payakapan, DTM, PDD, Lorrie Briscoe, DTM, Richard Daugherty, DTM, Mary Berg, DTM, and Daniel Cossack, DTM, PDD.